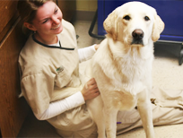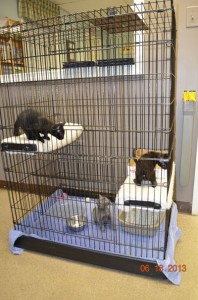 Green valley animal hospital offers boarding for our clients' pets. We have indoor runs for medium and large dogs as well as various-sized condos for both our canine and feline friends. Our very young and very old boarders with special health considerations are housed on the main floor and hand-walked outside around our garden at least three times daily based on their individual needs. All other dogs are housed in our downstairs runs where they can stretch their legs in our four outdoor runs at least three times daily. Unlike other boarding facilities we spend extra time giving your pet the love, attention and exercise that they deserve (as well as in room treats) for no extra charge.
Boarding Admissions
Animals coming in for boarding may be dropped off during our normal business hours. PLEASE BRING ANY MEDICATIONS (including nutritional supplements) that your pet may require. We also encourage you to bring your pet's regular food to avoid digestive disturbances from a different diet. However, if you would prefer not to bring in your pet's own food, we will provide high quality canned or dry food to our boarders based on their needs. Blankets and special toys may be brought in, and while we try our best to have them clean and ready for you when you pick up your pet, occasionally items do get misplaced, soiled or chewed by your pet. Please do not bring in any items that are irreplaceable! We always have bedding available for guests.
All boarding animals are required to be current on their vaccinations. These include Bordatella (kennel cough), DHPP (Distemper, Hepatitis, Parainfluenza, Parvovirus), Canine Influenza and Rabies virus vaccines for dogs. Cats are required to have FVRCP (Feline distemper) and Rabies virus vaccine for cats. To ensure your pet has the best protection while boarding , we strongly recommend that these vaccines be updated at least 2 weeks prior to boarding. Please feel free to contact us if you have any questions about whether your pet is due for any routine vaccinations.