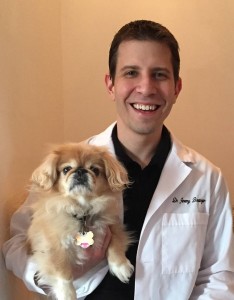 We are very excited and happy to introduce our new veterinarian Dr Jeremy Breitinger who joined our GVAH family on Jan 26th!Dr. Breitinger grew up in McMurray, Pennsylvania. He obtained his bachelor's degree in genetics and developmental bio…logy from the Pennsylvania State University. After spending a few years of research at the University of Pittsburgh Medical Center and the State University of New York, he pursued his interest in veterinary medicine. In 2011, He graduated from Cornell University Veterinary School and has since been practicing small animal veterinary medicine in Maryland. He holds an interest in dentistry, nutrition, and soft tissue surgery. Additionally, Dr. Breitinger strives for client education and helping owners make informed decisions about their pet's healthcare.
Dr. B is a member of the American Veterinary Medical Association, the Maryland Veterinary Medical Association, Western Maryland Veterinary Medical Association, and is USDA APHIS accredited.
When not working, he spends time with his two spoiled Siamese cats, a Siberian husky, a Pekingese, and a hedgehog. He also spends a lot of time with his wife, Leslie, who is an equine veterinarian. His hobbies include whipping up something in the kitchen, tending to their numerous orchids and plants, and shooting down the ski slopes.