Owner
Dr. Laura Page Warden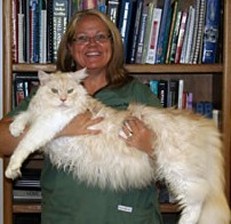 Dr. Page grew up in Rockville, Maryland, and remembers rescuing small rodents and birds from the neighborhood cat. She would try to nurse them back to health, and although she had more funerals than success, she knew she wanted to grow up to be a veterinarian. She graduated in 1984 from the University of Maryland with a BS in Animal Science, and in 1989 with honors from Tuskegee University School of Veterinary Medicine. Dr. Page came to Green Valley Animal Hospital in June of 1992 and found many wonderful people and a beautiful place to live. She and her husband Douglas Warden purchased the hospital in October 2003 and she prides herself on her wonderful and highly educated staff.
Dr. Page enjoys keeping up with the latest medical advances and obtains additional continuing education credits yearly, more than twice the requirement. She loves orthopedic and soft tissue surgery as well as internal medicine. She has taken many advanced course such as cranial cruciate ligament repair, hip and elbow surgery, advanced eye and eyelid surgery, abdominal exploratory and intestinal reconstructive surgeries. Other courses have included ultrasound and chiropractic medicine. She believes in advance pain management practices for our small companions. Her special interests include animal nutrition and after 21 years of practicing veterinary medicine, she has found that many conditions can be treated very successfully with nutritional intervention. Dr Page lives in New Market, Maryland, with her husband, son, 4 cats, and two dogs, and 2 snakes. She loves golf, horseback riding, and traveling.
Veterinarians
Dr. Jeremy Breitinger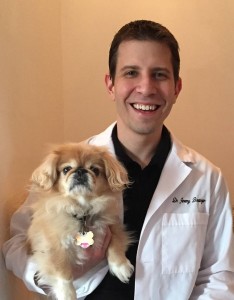 Dr. Breitinger grew up in McMurray, Pennsylvania.  He obtained his bachelor's degree in genetics and developmental biology from the Pennsylvania State University.  After spending a few years of research at the University of Pittsburgh Medical Center and the State University of New York, he pursued his interest in veterinary medicine.  In 2011, He graduated from Cornell University Veterinary School and has since been practicing small animal veterinary medicine in Maryland. He holds an interest in dentistry, nutrition, and soft tissue surgery. Additionally, Dr. Breitinger strives for client education and helping owners make informed decisions about their pet's healthcare. Dr. B is a member of the American Veterinary Medical Association, the Maryland Veterinary Medical Association, Western Maryland Veterinary Medical Association, and is USDA APHIS accredited. When not working, he spends time with his two spoiled Siamese cats, a Siberian husky, a Pekingese, and a hedgehog.  He also spends a lot of time with his wife, Leslie, who is an equine veterinarian.  His hobbies include whipping up something in the kitchen, tending to their numerous orchids and plants, and shooting down the ski slopes.
Dr. Tricia Stabler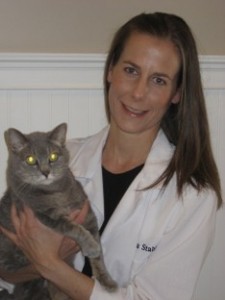 Dr. Stabler joined our practice in July of 2012 and we are thrilled to have her as part of our GVAH family. Dr. Stabler has special interests in internal medicine and behavior. She lives in Laytonsville with her husband and 2 children. I grew up on a grain and beef cattle farm. On the farm, I was always the one that raised the orphan calves or tried to sneak the farm kittens home with me. But it wasn't until I went to school at Delaware Valley College that I realized I really wanted to become a veterinarian. While working as a technician at a clinic, I always enjoyed the problem solving that came along with medicine and I loved watching surgeries. After graduating with a large animal science major, I attended veterinary school at Purdue University in Indiana. But, I always knew I would be back to Maryland. Now, many years later, I still love being a small animal veterinarian and working at Green Valley Animal Hospital.
Dr. Lisa Zolkiewicz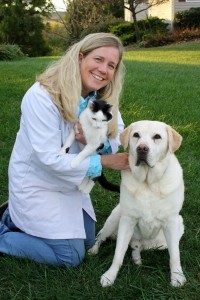 Dr. Zolkiewicz started working as a kennel assistant at Green Valley Animal Hospital when she was 15 years old. Dr. Zolkiewicz attended veterinary school at Virginia Maryland Regional College of Veterinary Medicine and graduated in 1994. She has worked in this area as an Emergency Veterinarian and general practice ever since.
Dr. Zolkiewicz has 3 children, twin daughters that are 16 and a son that is 13. Her husband is also a veterinarian and practices in Rockville Maryland. She shares her home with 2 dogs, Ruby and Beamer and 2 cats, Pink and Eli. When not practicing medicine, Dr. Zolkiewicz's interests include scrapbooking, watching her childrens' sporting events and running.