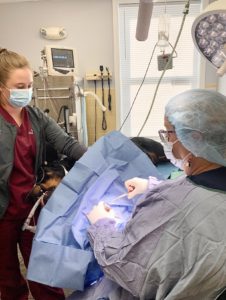 At Green Valley Animal Hospital, we are proud to offer a surgical suite complete with the latest in monitoring equipment – ensuring your pet's surgery and anesthesia are always performed as safely as possible. Our facility's full complement of monitoring equipment includes ECG, blood pressure, pulse oximetry, carbon dioxide levels and body temperature. Warm water heating blankets ensure your pet's temperature is maintained throughout the procedure.
Soft Tissue Surgery
Tumor/Growth/Lump Removals
Perineal Urethrostomy
Splenectomys
Episioplasty
Trauma Wound Repair
Cesearean Sections
Internal and External Biopsy Collection
Exploratory Surgeries
Enterotomy/Gastrotomy-Obstruction Removals
Anastomosis-Intestinal Tumor Removal
Gastric Dilatation and Vulvulus (bloat surgery)
Cherry Eye Repair
Eye Enucleation
Eye Evisceration with Intrascleral Prosthesis
Neuters/Spays
Surgery Preparations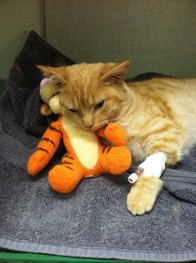 Pre-operative Surgical patients are generally admitted between 7 a.m. and 8 a.m., Monday through Friday. For your convenience, your pet may be dropped off the evening before the scheduled procedure and boarded overnight.
Any pet that may be undergoing an anesthetic procedure should be fasted prior to admission. Please do not feed your pet any food after 8 p.m. the night before the procedure. Water can be given. All regular medications should also be given at the regular times.
Your pet's safety is our number one concern. For that reason, all patients have a preoperative physical examination the morning of surgery to make sure your dog or cat hasn't developed any physical issues that could cause problems with anesthesia. It is recommended that all pets undergo preoperative lab work. Pets over 7 are required to have at least a basic pre-op blood panel. This ensures we know about any abnormal blood counts or organ problems that could affect how they handle surgery and the anesthesia.
Post-Surgery Care & Monitoring
A technician is assigned to each pet administered for surgery. Our veterinary nurses stay with your
dog or cat from the moment he undergoes anesthesia until he is fully awake. Pets are never left unattended. Once awake, patients remain in our ICU where we can keep a close eye on them until they go home. If your pet needs to stay overnight, our live-in veterinary nurse is
available to monitor your pet from time to time, however if more extensive monitoring is required, we would have them transferred to a local 24hr emergency facility.
Pain management is a crucial aspect of any pet surgery, and we go to great lengths to make sure our patients are as comfortable as possible. Our hospital has a multitude of pain-killers available for our patients and we routinely use combinations of drugs to ensure a quick and comfortable recovery for your dog or cat. Our staff is trained in Constant Rate Infusion (CRI) pain medication so that animals will be kept pain free throughout their stay. Animals feel pain just like we do and making sure they have the best in pain management after surgery is very important to us.