Hi. I'm Sarah, the Groomer at Green Valley Animal Hospital!  I've been working at GVAH for about 11 years. I am originally from England and learned to groom dogs from my mother who also groomed dogs. I started bathing dogs for mum at age 10 and practiced on our own long suffering Springer Spaniel and Poodle. I've been around animals all my life. I started riding horses at the age of five and still ride and train our own horses. My husband Pete is a Veterinarian and co-owns Monocacy Equine Veterinary Associates with Dr. Rich Forfa. I have two grown boys who are both in college.
I enjoy interacting with the animals and feel very confident handling them.
I love watching the professional dog shows, especially, noticing the proper trim and try to emulate and adapt those haircuts to your dog, giving a practical but attractive haircut. Perhaps because of my English background, I have always taken a keen interest in the different breeds of dog. I believe I have a very good idea of the correct clip for most breeds. If a dog comes into our practice and has been groomed elsewhere, I want to see what their groomer did! I actually admired a dog that was in for an exam one day, only to realize later that I had groomed the dog, I just didn't recognize it. That was a sweet moment.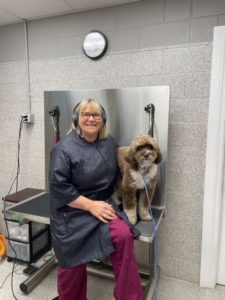 I have groomed some dogs here at GVAH from puppy hood to old age and they are dear friends to me. Of course, they dread having their nails done and the tangles dealt with but almost all are very well behaved and sweet. It is very rewarding to see them go home so proud of their new do's, with bows and bandannas.
I am very happy working here at GVAH. I believe Dr. Page-Warden and associates are first class veterinarians. It is a very pleasant place to work.
About Dogs.
Dogs get a haircut, nails trimmed, anal glands expressed, ears plucked and flushed, if needed, and a full bath with blow dry.
We use very good quality shampoo. Mostly we use hypo-allergenic soap free shampoo and conditioner, especially in the winter when the skin tends to get very dry due to the cold, and our heated homes. If a dog should have a skin problem, the Veterinarian will direct us as to which medicated shampoo to use.
Dogs with long silky coats are occasionally finished with a lanolin-based spray to bring out the shine, unless the owner specifies not to.
Please feel free to bring along a photo or magazine clipping of the haircut that you would like your dog to have. I try very hard to give a pleasing haircut.
Sometimes dogs go home with an extra short cut because they just have too many tangles to cope with. There is a point where it is just too much to ask the dog to endure and with years of experience, I feel like I know when that is.
About puppies.
It is a good idea to get puppies started as soon as they have had their vaccinations. Even if it is just a little trim and bath, they quickly learn all about being groomed. Almost all dogs have got it figured out by the third visit and start to relax and enjoy their day at the spa!
About Cats.
Cats get a haircut or brush out and trim, anal glands expressed, ears flushed and nails trimmed.
Cats are hard to groom! Their skin is very delicate and easy to cut. As you probably know cats seem to have an internal timer when it comes to grooming, and the time almost always runs out before I've finished.
With very few exceptions, I believe that most cats are far less stressed by being sedated by the Veterinarian for grooming. GVAH only uses shampoos specifically approved for use on cats.
Lumps, bumps etc.
As I groom your dog or cat, I am seeing them at very close range. If I notice a lump or sore, a red ear or something that I suspect that the Dr. should look at I will ask the front desk to look in the chart and see if we can find out if it is something you are already aware of.
If it appears to be a new problem, then our receptionist will call you to ask permission for the Dr. to look at your pet. I am not a Dr. and can't make a judgment about these things but I do notice odd things and like to make sure your pet is o.k.