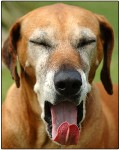 Timeless Tails is Green Valley Animal Hospital's NEW Senior Wellness Program, designed to help you more easily and effectively care for your senior dog and/ or cat.

Once dogs and cats begin entering their senior years, their health care needs become unique, and Timeless Tails is designed to systematically guide you through potential pitfalls of caring for a senior pet.
The mission of the Timeless Tails is to:
Help detect and treat common Senior animal diseases with an effective screening schedule.
Educate owners about signs of possible disease or discomfort that their animals may display at home.
Help to enrich the comfort and activity of all our geriatric animals, both sick and well, through the use of therapeutic medications, supplements, and prescription diets.
Medical Protocol:

Patients who join Timeless Tails are treated using a protocol that has been carefully drafted by our Veterinarians to provide the best care for your senior pet(s).
Twice a year physical exams, includes all aspects of a normal exam but will also include a comprehensive orthopedic exam.
Annual complete Blood count
Annual complete Chemistry profile with/ or without an Urinalysis
Annual Thyroid level
Tracking and analysis of your pet's weight
Consultations from our Doctor's about diet and nutrition, including any dietary ingredients, any therapeutic diets or supplements that may help your pet.

The entire staff at Green Valley Animal Hospital work everyday to help ensure that we are providing the best care for all of your pets. We hope that Timeless Tails will help continue towards this goal for a more thorough, age-appropriate medical protocol for your Senior pet.