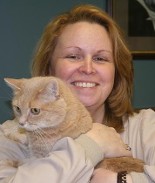 Receptionist/Patient Care Coordinator/Supervisor
Lisa started working at GVAH in April of 1998. During her tenure at here at GVAH, Lisa has worked as both a veterinary technician and a receptionist. In addition to her current responsibility as the Patient Care Coordinator, Lisa also helps to coordinate communications with clients and helps to facilitate inventory logistics.
When not at work, Lisa enjoys spending time with her husband Rodney and sons Elijah and Caleb. Ensuring that there is never a dull moment in their house there are 2 dogs, 4 cats, a sun conure, a nanday conure and plenty of fish.