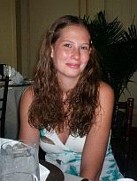 Assistant Hospital Manager/Veterinary Technician
I have been an employee of GVAH since February of 2004. I started here as a kennel technician during my senior year of high school. Soon after I became the Kennel Manager and maintained that position while also being a Veterinary Technician until the beginning of 2009, at which time I became the Assistant Hospital Manager for GVAH. Along with my managerial duties I am also in charge of maintaining/recording all controlled substances coming in and going out of GVAH.
My interests include learning about infectious diseases and their diagnostics. Outside of Green Valley when home, I enjoy spending time with my husband and keeping busy with 2 crazy kitties, our dog Lexy and 2 dogs that live at my parents.