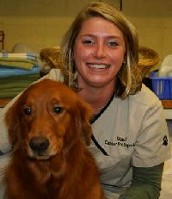 Receptionist/Receptionist Supervisor/Adoption Coordinator/GVAH Community Outreach
I started working at Green Valley in May of 2004. I have always had an extreme love for animals and have finally combined my love and passion into a career working with them. As well as being a receptionist and front desk supervisor I am also the adoption coordinator for the cats (occasionally dogs) that we sometimes need to find homes for! I take careful time ensuring each of our adoptable pets gets a loving, caring and safe forever home. Since working here at GVAH, I have adopted my two cats; Cosmo and Emma.
In my spare time I love to be outdoors with my golden retriever Skyler, especially swimming! I also enjoy hanging out with my adorable son, my family and friends.